Skip to Content
Slate Roofing in Anne Arundel County
Slate Roofs Provide Unparalleled Beauty for a Lifetime
For many homeowners, the roof of their house is an afterthought, only coming to the forefront when it starts to leak. But a roof can be the crowning jewel of your home, especially when covered in beautiful slate roofing tiles. Slate roofs have been acclaimed for its natural beauty and remarkable longevity, and it is a great way to add a distinctive touch of class to your curb appeal. At Cunningham Contracting, Inc., our full team of highly trained roofing contractors have the knowledge and skills to provide you with the best slate roofing services in town. We are dedicated to the highest quality installations and exceptional customer services.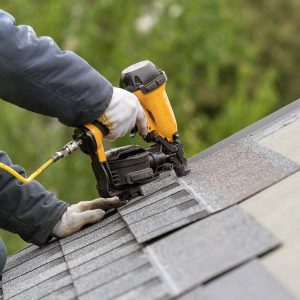 Benefits of Slate Roofing
If you are looking for a superior roofing solution that is not only beautiful but guaranteed to last a lifetime, then slate roofing is exactly what you need. Widely considered the highest-quality roofing material, slate comes with a variety of benefits, including:
Timeless beauty
Can last for over 100 years
More durable than manmade products
Virtually maintenance-free
Available in a variety of colors
Able to withstand extreme temperatures and weather conditions
Worth Every Penny
While the sticker shock of slate roofing may lead some to look for more affordable options, the investment greatly adds to the value of your home. Slate roofs are waterproof and the non-combustible properties of stone will help protect your home in the event of a fire. Slate roofs are highly resistant to temperature fluctuations, inclement weather, and mold, making it practically maintenance-free. To top everything off, the amazing aesthetics of natural slate will help you create a lasting impression on your friends and neighbors and make your home more attractive to prospective buyers if you ever decide to sell.
A Myriad Of Color and Style Options
The most attractive feature of slate roofing is the aesthetic beauty of natural stone. This elegant material comes in more colors than most homeowners realize, so you are sure to find a solution that complements your home's décor. In addition to common gray, slate roofs can naturally be found in red, purple, green, black, and multi-colored varieties.
Environmentally Friendly
Since slate roofing is 100% natural, it requires no petroleum-based fillers or synthetic materials. When a slate roof has reached the end of its usable life, it can simply be returned to the ground with no risk of pollution. In addition, nothing can compete with slate's longevity. A slate roof can last over 100 years, which leaves all other roofing materials in the dust and completely avoids adding to the millions of tons of roofing materials that end up in landfills each year.
Slate roofing is a significant investment for your home or commercial property, so it's important to utilize the professional services of qualified roofing contractors to ensure the best results. At Cunningham Contracting, Inc., we have over 25 years of experience in slate roofing installations, so you can count on us to do the job right. Get in touch with us today!
To find out more about natural slate roofing, call 410-721-8757!
Contact Us Today to See What We Can Do For You!