Skip to Content
Finest Slate Roofing Installation in Greater Annapolis Area
Slate Roofing Installation From Highly Trained Contractors
Homeowners typically don't think about their roof until it starts to leak, but the right choice of materials can make your house's crowning jewel shine. Slate roofing tiles are renowned for adding a classy touch and lasting years longer than other standard options—bringing beauty and reliability to any home exterior.
Cunningham Contracting, Inc. is your premier destination for expert slate roofing installation. Our team of qualified contractors is highly trained and equipped to give you the highest quality installation with superior customer service. Get ready to enjoy a dependable roof that'll last long into the future.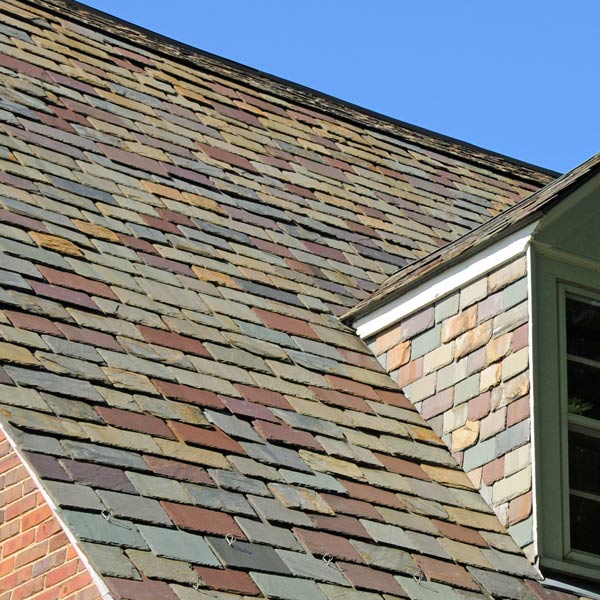 An Introduction to Slate Roofing
With their century of proven longevity and countless extraordinary benefits, slate roofing tiles are the ideal choice for any homeowner in search of a luxurious roofing upgrade. The slate is mined (mainly in Italy) and chipped into square tiles. Slate tiles are installed one at a time, as opposed to other roofing materials that come in three-foot-wide strips or metal panels.
Slate tile roofs exude timeless elegance while providing superior energy efficiency, fireproof protection, unbeatable durability, and added market value to your property.
Why Choose Slate Tile Roofing for Your Home?
Slate is an incredibly durable material, as anyone can tell you who has seen a slate roof that's still going strong after centuries. Such longevity makes slate an ideal candidate for repurposing and recycling—preserving sustainability while reducing waste from landfills. Unlike asphalt or synthetic roofing, which require frequent replacement over time, natural slates offer superior life spans ranging up to 100 years.
For a truly long-lasting slate roof, you need to ensure that it is installed with expertise and accuracy. A capable specialist is the best bet for precision work that will stand up against the elements over time. Contact us today to get an estimate from our slate roofing installation experts.
The Benefits of Slate Roofing
Slate tiles offer a stunning aesthetic appeal and enhance the look of any roofing space. Considered the highest quality roofing material, slate roofing comes with a variety of benefits including:
Timeless Beauty
With slate roofing, your home will not only look distinct—it will also be a standout amongst many. This dark stone finish adds a touch of elegance and style to any property, giving it an edge over more traditional looks.
Longevity
When installing slate roofs, you can expect them to last at least 100 years.
Durability
With its natural mold resistance, fire-proofing capabilities, low water absorption rate, and considerable weight, slate stands out as the trusted exterior tiling option that can withstand fire or any weather conditions.
Eco-Friendliness
Slate roofs are crafted from natural stone, and when finally needing replacement, they don't leave any negative lasting effects on the environment.
The Pros and Cons of Slate Roofing
Slate roofing is an excellent choice for those looking to invest in a durable, long-lasting material. But it's important to weigh all the pros and cons of slate roofing tiles before making your decision.
The Pros of Slate Roofing Tiles
Aesthetically Pleasing – Slate roofs are popular among homeowners because of their beauty and gorgeous roofing material.
Low Maintenance – Slate roofs have extremely low maintenance due to their exceptional durability and longevity.
Increased Home Value – Slate roofs are beneficial when you sell your house. It helps you get a higher selling price compared to a house with an asphalt roof.
The Cons of Slate Roofing Tiles
Weight – Slate roofs weigh over 1,000 pounds per square. Make sure that your home has a strong structural foundation before installation.
Cost – The primary disadvantage of a slate roof is its high cost. You may expect to pay up to $20 per square foot on average to have slate installed.
Fragility – Walking on a slate roof can present steep risks. This material is particularly fragile, so it can make the maintenance of your home an issue.
Other Roofing Services We Offer in Anne Arundel County
Cunningham Contracting, Inc. is your leading roofing contractor in Anne Arundel County. With a team of experienced professionals, you can count on us to provide the highest quality service with unmatched professionalism every step of the way. We install many types of roofing including
Invest in your home or commercial property with confidence by utilizing the experienced and knowledgeable services of Cunningham Contracting, Inc. Our team has over 25 years of slate roofing installation expertise, so you can trust that we'll deliver quality artistry each time. Get in touch with us today to secure a lasting investment for your future!
Contact Us Today to See What We Can Do For You!