Skip to Content
Install High-Quality Gutters & Downspouts in Greater Annapolis Area
Gutter and Downspout Installation From Expert Roofers
Protect your building from rain and other debris with essential rain gutters and downspouts. Keep out wind, hail, snow, or sleet while ensuring a secure roofing system that can withstand any weather condition.
Cunningham Contracting, Inc. provides high-quality gutter installation and downspout installation to homeowners in Anne Arundel County, MD. Our team of experts understands the complexities involved with integrating gutters and downspouts into your roof for maximum efficiency.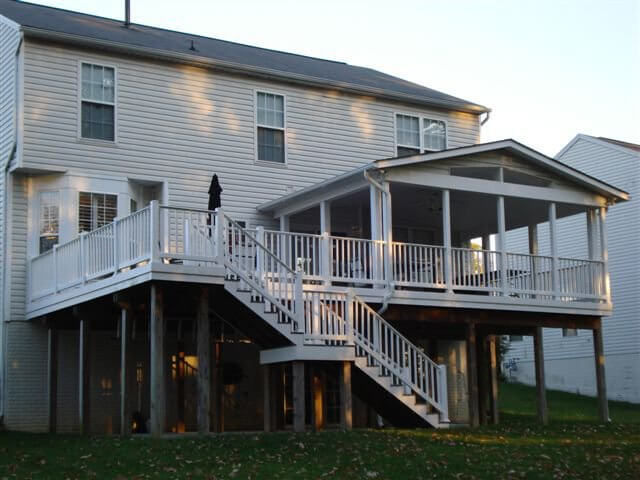 Gutter and Downspout Installation in Anne Arundel County
Is your home due for a gutter replacement or a downspout installation? If so, call the experienced professionals at Cunningham Contracting, Inc. Our team of specialists is more than capable of helping you select the best gutters and downspouts to fit your commercial or residential property's needs. With decades in this business, we're sure that our quality gutter and downspout installation services will exceed all expectations. Get in touch with us today to begin planning.
The Importance of Gutters and Downspouts for Your Home
Cunningham Contractors, Inc. offers aluminum gutters and downspouts which are a favorite among homeowners. They offer dependable protection that won't break the bank. Keeping your home safely shielded from water damage starts with a properly installed gutter and downspout system.
This trusty duo plays an essential role in diverting damaging moisture away from the foundation, helping to avoid flooding basements, and protecting you against costly repair bills. Here are a few more reasons why gutters and downspouts are important:
Longer Roof Lifespan
Gutters and downspouts are essential to protecting your roof. They protect your roof against unexpected overflow from rainwater. Clear pathways also extend your roof's lifespan, ensuring proper coverage for years to come.
Protect Your Home's Foundation
Gutters and downspouts help keep your home's foundation strong by directing rainwater away quickly from your house. Regular gutter maintenance is critical to ensure these systems are running smoothly.
Protect Your Home's Sidings
An effective gutter and downspout system keeps your home safe from water damage. By correctly managing the flow of rainwater, you can prevent a potentially costly waterfall on your sidings.
When to Invest in New Gutters and Downspouts
Proper maintenance and consideration of climate are some factors that determine the longevity of your gutters and downspouts. If over a decade has passed since installation, pay special attention in case gutter replacement is necessary. Take extra precautions and read these reasons why you should invest in new gutters and downspouts:
It will save you unnecessary repair expenses and continuously protects your home from water damage
It will save your landscaping and prevents damage on your yard
It keeps your basement dry and prevents flooding, especially during rainstorms
It prevents mold from growing and spreading to your home
It will add value to your home
Other Roofing Services We Offer in Anne Arundel County
Cunningham Contractors, Inc. is dedicated to providing the best roofing solutions for Anne Arundel County residents in a variety of styles and materials. Our experienced technicians have honed their skills through years of installations throughout this region—ensuring that your home has superior protection with an attractive finish. We offer the following roofing services for your home
Our seamless rain gutter installation and downspout installation are effective ways to protect your investment while saving money in the long run. Is your home suffering from a clogged gutter? Don't let it get any worse! Contact our experienced contractors today for your gutter and downspout installation.
Contact Us Today to See What We Can Do For You!