Skip to Content
Flat Roof Installation in Greater Annapolis Area
Cunningham Contracting, Inc. Provides Flat Roofing
Choosing the ideal roof for your structure is a challenging process. Whether you need a roof for your home, business, or another building, there are many factors to account for. With so many roofing options on the market, you need an expert team to help you navigate them. The staff at Cunningham Contracting, Inc. in Crofton, MD is made up of seasoned roofing professionals. Our team is knowledgeable enough to suggest the best types of roofing for your specific needs. The flat roofing options we offer are excellent for homes, businesses, and freestanding structures, but it's essential you look at the pros and cons of each type. Contact us today for help on how to choose the perfect flat roof.
Primary Types of Flat Roofing
Flat roofing is a broad category, and there are three primary types of flat roofing available today. Each comes with its own advantages and disadvantages. The expert team at Cunningham Contracting, Inc. can help you decide which type is best for your Crofton, MD home.
Rubber/EPDM Roofing
Ethylene propylene diene monomer (EPDM) or rubber roofing is often used for flat roofs. This material is durable, fire-resistant, and easy to install. Though repairs are simple, rubber roofing is more susceptible to holes than other flat roofing options.
Built-Up Roofing (BUR)
This type of flat roofing is known for being waterproof and fire-resistant. BUR is also the least expensive flat roofing on the market. However, installation is a tedious and messy process. Installing BUR yourself isn't an option, and it shouldn't be installed in a home where someone is currently living.
Modified Bitumen
Modified bitumen flat roofs are straightforward to install. Their single-ply structure acts as a water shield and reflects heat, thereby reducing energy costs. However, modified bitumen is rarely a good choice for a residence or office building as it can be a fire hazard.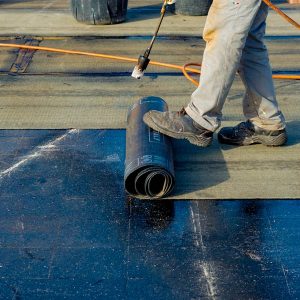 Increase the Usable Space of Your Crofton, MD Home
Home and business owners love flat roofing for the interior and exterior space opportunities it provides. Inside your home, a flat roof can open up attics and crawlspaces into usable living or storage space. No more tight, unusable corners caused by pitched roofs! A flat roof also gives you options for new ways to use outdoor roof space. You may choose to make your flat roof a functional area with solar panels or air conditioning units. But you can also use your newfound space for something a little more fun. Your flat roof could be a beautiful patio and outdoor entertaining area or a flourishing rooftop garden. Imagine the possibilities for get-togethers and exercising your green thumb with a usable outdoor space in Crofton, MD. Talk to the team at Cunningham Contracting, Inc. today to discuss your options.
Be Aware Of Flat Roofing Maintenance Challenges
Maintenance of flat roofs tends to be more extensive than other roofing solutions. Water often collects on the roof because of the lack of drainage. Flat roofs also leak more than traditional roofing, so you'll need to address repairs more frequently. However, these repairs are usually quick and easy. Because of these issues, flat roofing tends to have a shorter lifespan than metal or asphalt roofing. These roofs usually last about 10 years. Consult with the experts at Cunningham Contracting, Inc. on whether flat roofing is an appropriate option for your Crofton, MD building. Flat roofing takes more maintenance than other traditional roofing, but the added work is worth it to keep costs down.
Affordable Roofing Solution Today and Tomorrow
Most types of flat roofing are cost-effective, both during the initial installation and in the long run. Because flat roofs don't have a pitch, the installation process is much faster and safer for the Cunningham Contracting, Inc. team. Plus, you'll need to pay for fewer materials than other roofing options. If something goes wrong with your flat roof after installation, repairs are typically quick and easy as well. A flat rooftop is much more accessible to perform fixes and clean gutters. Purchasing a flat roof in Crofton, MD is both cheaper in the first place and when making future repairs.
Crofton, MD's Go-To for Roofing Solutions
Flat roofing is an excellent option if affordability is at the top of your "must-have" list. While they may not last as long as other types of roofing in Crofton, MD, flat roofs serve their function well when installed correctly. If you feel flat roofing is the solution for you, the team at Cunningham Contracting, Inc. is ready to help you get started on your project. We can help with everything from choosing materials to repair tips and tricks. Contact our experienced team today to discuss your roofing needs.
Contact Us Today to See What We Can Do For You!