Skip to Content
Aluminum Downspouts in the Greater Annapolis Area
Professional Service for Aluminum Downspouts
Your downspouts play a pivotal role in your gutter system. The downspout is a vertical pipe connecting to the actual gutters and channels the water to the ground. This component is critical because it ensures that your gutters aren't retaining water and is responsible for keeping water away from your home's foundation. The end of the downspout will usually have a curved piece that points away from your home. When your downspouts are broken, cracked, or otherwise damaged, you need to call a professional as soon as possible. Cunningham Contracting, Inc offers aluminum downspout installation and aluminum downspout maintenance in the Greater Annapolis area. Whether you need a simple aluminum downspout extension or a brand-new installation, we do professional work. With over 25 years of experience with gutter installation and service, we are the best choice.
Advantages of Aluminum Downspouts
Aluminum downspouts are among the most common because they work very well. They are reliable, don't require a lot of maintenance, and hold up in most weather conditions. Here are a few more reasons you should consider aluminum downspouts:
Lightweight – Aluminum has a great weight-to-strength ratio. Aluminum downspouts won't add weight stress to your gutter system, and because the material is lightweight, it's easy to install.
Color Options – Aluminum also comes in a wide variety of colors which means you can customize your downspouts to match the style of your home, whether you use black aluminum downspouts or white aluminum downspouts.
Home Protection – Standing water near the exterior walls of your home can easily seep through to your foundation. Leaks in the foundation can lead to cracks and costly repairs. Aluminum downspouts help route water away from your foundation to negate leaks.
Strategic Drainage – A properly installed downspout can channel water to a separate drainage system or towards grass and plants. This allows you to strategically drain rainwater to parts of your yard that need it or simply to a drainage system.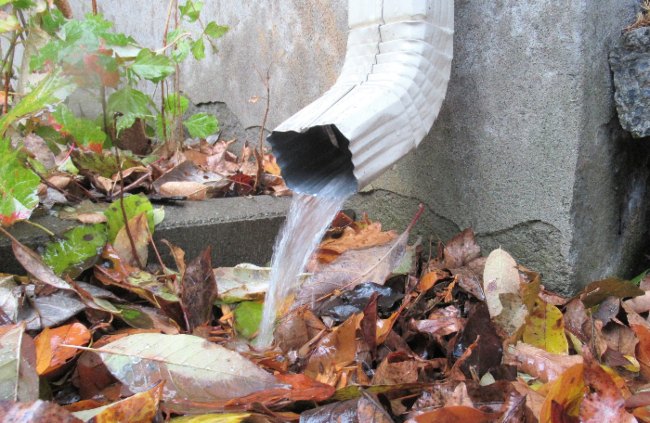 Types of Aluminum Downspouts
There are a few different types of downspouts to choose from. For example, you can install downspout extensions if your downspouts are installed in an inconvenient or awkward area. Extensions can help channel water away from problematic areas of your home that are vulnerable to standing water. In addition, you can opt for colored downspouts to match your existing gutter system or the color scheme of your home. In any case, Cunningham Contracting, Inc can help you choose the right downspouts. Our professional staff is available to answer any questions you may have about gutters and downspouts.
Downspout Installation
Cunningham Contracting, Inc takes a meticulous approach to downspout installation. We first assess the condition of your current gutter system to determine which downspouts would work best. Then, we consult with you to discuss options and to listen to your preferences. We also work with the highest-grade aluminum downspout materials and components to ensure long-lasting functionality. You can also rely on us for quick and hassle-free installation. Our comprehensive warranty backs all of our gutter services, so you have nothing to worry about once the job is complete.
Cunningham Contracting, Inc also offers downspout maintenance and care services in the Greater Annapolis area. If your downspouts have become damaged, we can help. Our maintenance service is affordable, and we never suggest a repair that isn't essential.
Contact Us for Aluminum Downspout Services
Be sure your home is protected from leaks by calling Cunningham Contracting, Inc for downspout services. We offer free estimates to keep our services affordable. You can also count on honest and professional service when you work with us. For the best aluminum downspout maintenance, installation, and repair in the Greater Annapolis area, contact us today.
Contact Us Today to See What We Can Do For You!