Skip to Content
Cedar Shake Roofing in Greater Annapolis Area
Trusted in Crofton, MD for Cedar Shake Roofing
Roofing is no easy task. In addition to physical difficulty, there are countless roofing options to choose from. Navigating all of your choices can quickly become overwhelming. If you're looking to install a new roof in your Crofton, MD home, cedar shake roofing may be the perfect option. The team at Cunningham Contracting, Inc. has installed many cedar shake roofs over the years and does so with skill and efficiency. Trust us to complete your home with a beautiful cedar shake roof.
A Historic Roofing Solution
Cedar shake is a historic type of roofing with roots in the North American colonies. This form of roofing is made from split logs, which then is turned into shingles of varying thicknesses. With proper maintenance, cedar shake roofing can last around 30 years. However, the lifespan of your roof will likely hinge on the weather conditions and amount of rainfall it encounters. Maryland experiences all kinds of weather. Snowstorms in the winter, heat, and humidity in the summer, and bouts of rain will all affect a cedar shake roof. Talk to the professionals at Cunningham Contracting, Inc. to learn the ways Crofton, MD weather can impact cedar shake roofing.
Design That Stands Against the Test of Time
Cedar shake is one of the most attractive roofing options on the market in Crofton, MD. A cedar shake roof has the advantage of natural beauty that stands the test of time. This classic roof has been popular for decades for its distinct look. No cedar shake roof is quite like another. The varying thickness and size of each shingle mean no roof is exactly alike, and your home maintains its unique charm. Cedar shake looks beautiful even as it ages. It gradually takes on a silvery hue, replacing the vibrant earth tones cedar shake may have in its early years. Cedar shake roofing is ideal for historic homes or new homes that need a touch of character. Cunningham Contracting, Inc. can help you choose from an array of design options for cedar shake roofing at your Crofton, MD home.
Proper Upkeep for Cedar Shake Roofing
After installing a cedar shake roof at your Crofton, MD home, you'll need to perform regular maintenance to keep it in top shape. Generally, thorough maintenance every four years is enough to keep your cedar shake roof as beautiful as the day it was installed. Light pressure washing is an excellent way to keep your roof clear of debris and dirt. In addition, you'll need to keep an eye out for algae, moss, and fungi growing into the cedar shake. Heavy rains tend to facilitate fungi growth, which you'll need to remove as soon as possible. If you need help with maintaining your cedar shake roofing, don't hesitate to ask Cunningham Contracting, Inc. Our staff in Crofton, MD is happy to address your roofing concerns. Cedar shake needs a little extra care than other traditional roofs, but the incomparable beauty is worth it.
Consider All Your Roofing Options
Despite the beauty and style associated with cedar shake roofing, there are a few instances when you may want to consider other types of roofing. Cedar shake struggles in humidity and heavy rainfall. If you aren't prepared for frequent maintenance, you should consider alternatives. Asphalt roofing, for example, might be the better option. Additionally, since cedar shake is a wooden roofing style, it's not fire-retardant. Homeowners with concerns about fire safety can use fire retardant to help protect their home, but it will likely need reapplication after every rain shower. Metal roofing may be the best choice for you. Discuss your situation with our Crofton, MD roofing experts at Cunningham Contractors, Inc. We can tell you if cedar shake roofing is a good fit for your home.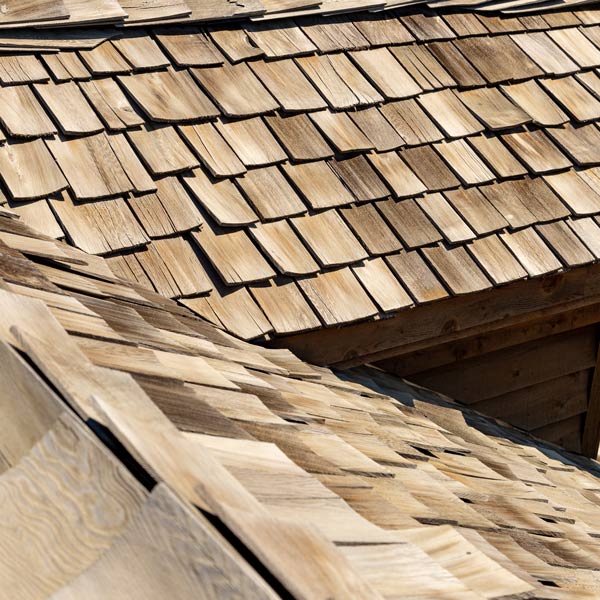 Balancing Cost and Beauty of Cedar Shake Roofing
When it comes to cost, cedar shake roofing tends to run on the high end. Because cedar trees grow slowly, there's less cedar shake to go around. With scarcity, prices tend to increase. Maintenance also increases the lifetime cost of cedar shake roofing. You'll pay more for repairs and general upkeep throughout the time you have a cedar shake roof. But if beauty and aesthetics outweigh the cost for you, then cedar shake is for you! Contact Cunningham Contracting, Inc. for a free estimate on what your Crofton, MD roofing could cost.
Choose Cunningham Contractors, Inc. for Cedar Shake Roofing
At Cunningham Contractors, Inc., we want to equip your home with the best roof possible. Cedar shake roofing is a fantastic choice for a rugged, historical look. No other roof will be identical to yours, and you can take pride in the uniqueness of your home. We strive to treat our Crofton, MD roofing customers like family. We're committed to delivering excellent service, top results, and reasonable prices. Contact us today to get started on your roof redesign with cedar shake.
Contact Us Today to See What We Can Do For You!