Skip to Content
Aluminum Gutters in the Greater Annapolis Area
Durable Aluminum Gutters
Aluminum gutters are tough, durable, and rust-resistant. They can also be made to match the aesthetic of your home. These are just a few reasons why aluminum gutters are so popular. Cunningham Contracting, Inc has over 25 years of experience with aluminum gutter installation and gutter repair. Our professional team will help you reap all the benefits of aluminum gutters. We offer the best warranties in the Greater Annapolis Area. We also offer free estimates. Our goal is to help you save money on essential home improvement projects and repairs, so give us a call to learn more about our services today.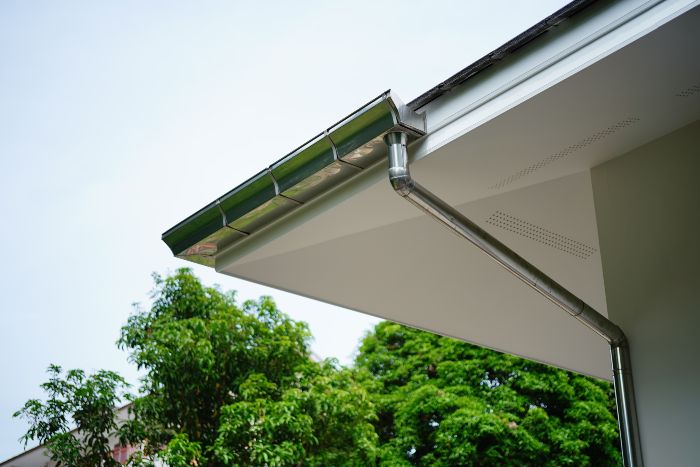 The Benefits of Aluminum Gutters
If you're not sure whether you want to install an aluminum gutter system, take a moment to consider the following benefits:
Crack-Resistant – Aluminum, unlike other materials, doesn't crack in extreme heat or cold conditions.
Custom Lengths – Aluminum can easily be cut to specific lengths so that the gutter system as a whole will have fewer seams and vulnerable points.
Affordability – When you hire Cunningham Contracting, Inc, you can be sure that you will get the best deal for your aluminum gutters, backed up by the best warranty.
Types of Aluminum Gutters
Another key benefit of choosing aluminum gutters is that you are not limited to one type. Take a look at just a few options you have with aluminum gutters:
Leaf Sentry – Leaf sentry gutters keep leaves, twigs, and other fallen debris out of your gutter system. This will help reduce clogs while allowing rainwater to flow freely through the system and away from your home's foundation. Another great benefit of leaf sentry systems is that you won't need your gutters cleaned as often.
Standard K-Style Gutters – This is the most common type of aluminum gutter system in the Greater Annapolis area. A K-style gutter system features a simple design with a flat bottom and back that connects to your roof line. The front piece can have a decorative pattern to accent your home.
Steel Mesh Guards – With this system, a high-grade steel mesh is attached to the top of your gutters. Much like the leaf sentry system, the steel mesh guard keeps out large debris; but is fine enough to keep out smaller debris like tree seeds and insects.
Seamless Aluminum Gutters – Seamless gutter systems are custom-cut on-site to the dimensions and measurements of your home. This means that they can be installed as a single piece. The design eliminates all seams where leaks can occur. This design is the best option if you want to avoid leaking gutters.
Gutter Installation
Cunningham Contracting, Inc offers professional gutter installation in the Greater Annapolis area. A gutter system needs to be installed properly in order for it to do its job: channel water away from your foundation and protect your roof. That's why we work meticulously to ensure a secure-fitting and functional gutter system for all our customers. Our gutter installation includes a thorough, on-site assessment of the layout of your property. Then, we suggest a gutter system with components designed to guard your home from water damage. Our team will never suggest gutter systems or parts you don't need. Our customers rely on us for honest and reliable gutter installation, which we deliver.
Contact Cunningham Contracting, Inc
Whether you need aluminum gutter guards installed, gutter replacement, or new installation, Cunningham Contracting, Inc will get the job done. We install aluminum gutters in the Greater Annapolis area and provide professional gutter services. Learn more by contacting us today.
Contact Us Today to See What We Can Do For You!