Skip to Content
Install Bay Windows in the Greater Annapolis Area
Beautiful Bay Window Ideas By Cunningham Contracting, Inc
Bay windows add instant beauty and more sunlight to the rooms of your home. Bay windows typically feature a large center panel of glass flanked by two side panels. They jut outward from the exterior wall and create an interior surface ideal for plants, flowers, or home decor. Cunningham Contracting, Inc offers professional bay window installation in the Greater Annapolis area. We have over 25 years of home improvement experience. We can install a wide array of bay windows, including but not limited to canted bay windows, circle bay windows, Victorian bay windows, box bay windows, and bow windows. All of our installations feature reinforced frames. We also use premium materials and components. Cunningham Contracting, Inc specializes in custom bay window design and installation. No matter what your vision for your home is, we can help make it a reality. To get your project started now, give us a call.
Advantages of Bay Windows
Aside from the aesthetic appeal, there are practical benefits to installing bay windows in your home. Take a look at just a few of them:
More Natural Light – Installing a bay window into your kitchen, living room, or bedroom allows more natural light to fill the space. With more natural light, you can limit your electric light usage – saving you money on electricity. Bay windows are some of the most energy-efficient types of windows.
Better Air Flow – Some bay windows feature side panels that open up. The side panels will catch more air from the outside since they are not flush against the wall like traditional windows. When combined with traditional windows, bay windows allow air to flow into your home no matter what direction the wind is blowing.
Increased Home Value – When you have your bay windows installed professionally, they can increase the value of your home. Bay windows also make a home look more attractive to potential buyers.
Multiple Window Treatment Options – There are multiple viable window treatments for bay windows, including beautiful Roman shades, classic plantation shutters, curtains, and blinds.
In addition to these great advantages, you can incorporate bay windows into a beautiful home design in many ways. For example, bay windows are perfect for window seats. A window seat offers you and your family a cozy place to enjoy the weather from the comfort of the indoors. Conversation nooks complete with armchairs work well situated in bay windows as well. Bay windows are also ideal spots to showcase house plants and flowers, allowing them to soak up the sun. Built-in benches nestled under bay windows create an attractive area to lounge. There are many window options, and Cunningham Contracting, Inc can help you choose the best one.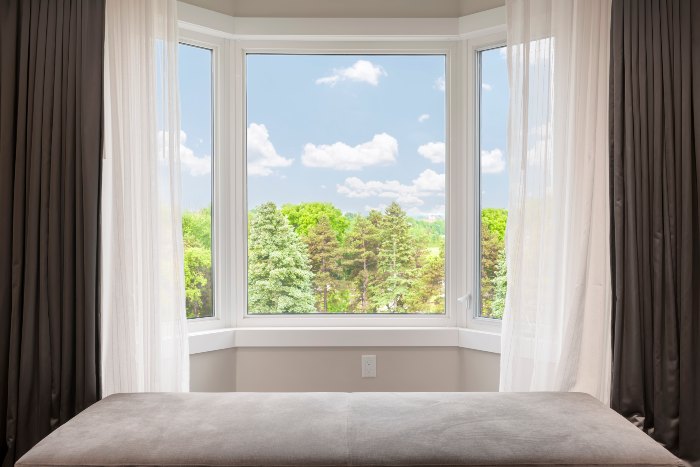 Our Bay Window Services
Cunningham Contracting, Inc is the best choice for bay window services because we do it all. Our services include:
Bay Window Installation – We install bay windows professionally using the highest quality materials and products from the most-trusted US manufacturers. Our team is licensed and experienced. Plus, we can handle the installation of any style of bay window.
Bay Window Maintenance – Cunningham Contracting, Inc can help you maintain the beauty and functionality of your bay windows. We offer a variety of bay window maintenance services to help you avoid the need for repairs.
Bay Window Replacement – Whether you are fixing up an old house or are just looking to upgrade, you can count on us for professional bay window replacement. Cunningham Contracting, Inc can replace any type of bay window with any new style you desire.
Contact Us for Bay Window Services
Cunningham Contracting, Inc offers affordable bay window installation, maintenance, and replacement rates. Our service starts with a free estimate and isn't done until we've met with your full satisfaction. In addition to bay windows, we specialize in garden, double-hung, casement, bow, sliding, and picture window installation. However you choose to improve your home, we can help. Contact us for professional window services in the Greater Annapolis area.
Contact Us Today to See What We Can Do For You!