Skip to Content
Asphalt Shingles Installation in Annapolis Area
Discover the Beauty and Durability of Asphalt Roofing
Your roof is in dire need of replacing, but choosing the right roofing material is not as easy as it looks. Not only do you want a high-quality material that won't break the bank, but it has to be durable enough to protect your family for many years to come and complement your existing décor. When you put it like that, the answer is simple: asphalt shingles. Known for its durability and high performance, asphalt shingle roofing protects four out of every five homes in North America, making it one of the most popular roofing materials in the world. At Cunningham Contracting, Inc., our highly skilled roofing contractors have been installing asphalt shingles on Crofton's homes and businesses for over 25 years, so you can count on us for the best asphalt roofing solutions in town!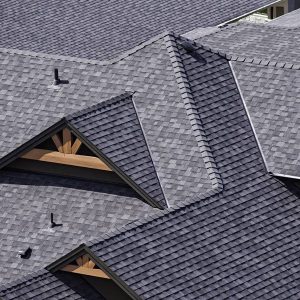 Benefits of Asphalt Roofing
While it's no secret that asphalt roofing looks great, it looks even better when compared to other roofing materials. Metal, tile, slate, and wood roofing cannot beat the outstanding benefits of asphalt shingles, which include:
Long life expectancy ranges from 20 to 50 years
Affordable pricing
Endless style, texture, and color options
Easy to maintain and repair
Reflects UV rays, keeping your home cooler in the summer
Resistant to wind, fire, and hail damage
The Epitome of Versatility
Gone are the days when brown and gray were your only roofing color options, especially when you choose to install asphalt roofing on your home or business. Cunningham Contracting, Inc. offers a wide variety of asphalt shingles styles, textures and colors to choose from that can make your property stand out from the crowd. Asphalt roofing can simulate shake, slate, tile, or wood materials at a fraction of the price, and the color palette includes everything from rich reds to beautiful greens to natural tones.
Cost-Effective Roofing Solutions
If the thought of replacing your roof is giving your bank account a panic attack, then asphalt shingles are definitely the way to go. Primarily made of an organic or fiberglass base coated in asphalt and covered with slate, schist, quartz, brick, stone, or ceramic granules, the shingles themselves are relatively inexpensive to produce. The installation process of an asphalt roof is also quick and easy, reducing labor costs, and the shingles require little maintenance once installed. Asphalt shingles also come with some of the best warranties available, making them an economical alternative to wood shake, metal, or tile roofing options.
Durable and Easy to Maintain
At Cunningham Contracting, Inc., we love installing quality products that are built to withstand the test of time, which is why we take a great deal of pride in our asphalt roofing services. Asphalt shingles can endure all weather conditions, require minimal maintenance, and are available in many manufacturing grades that span 20-50 years. Asphalt shingles are also easy to replace if repairs are needed, and the shingles can be recycled at the end of their usable life.
To request a free estimate, call 410-721-8757 to speak with our asphalt roofing experts!
Contact Us Today to See What We Can Do For You!