Skip to Content
Commercial Roofing Contractors in Baltimore, MD
The Roofing Contractors You Can Trust
When it comes to roofing services in Baltimore, MD, you won't find more experienced or trustworthy services than the roofing services at Cunningham Contracting Inc. The Baltimore area has trusted our team for over a quarter of a century. We provide this impeccable service by prioritizing your satisfaction. We satisfy our customers by providing comprehensive roofing, gutters, windows, and siding services by expert, licensed, and insured technicians. Experience the Cunningham Contracting difference when you hire our residential or commercial roofing contractor services.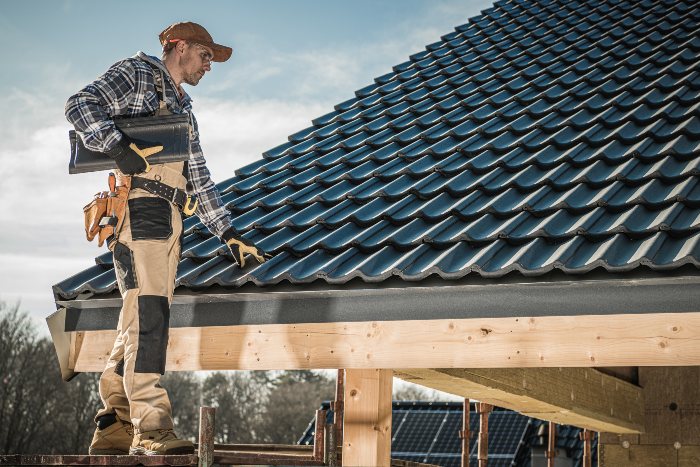 Roof Repairs for All Materials
At Cunningham Contracting Inc, we provide excellent repair services for all roof types. Whether you have a flat roof system or a sloped system, our services can be utilized.
For over 25 years, our metal roofing contractors have serviced many roofing types, including:
A Baltimore Roofing Company With Experience
Our team at Cunningham Contracting Inc is all about providing the best residential roofing contractor services in the Baltimore area. Our Baltimore roofing team prioritizes your needs and satisfaction. We provide honest, quality services for any contracting needs, including siding, roofing, gutter systems, and window installation.
Our experienced and licensed technicians will provide you with a thorough report of our personalized services and prices during your free consultation. We are also available to answer any of your questions and provide additional information to help you have everything you need. Our gallery of work shows the quality of service we provide to homes and businesses like yours.
Maintain Your Roof to Make It Last
At Cunningham Contracting Inc., we provide quality maintenance resources and services for your roof to ensure it lasts many decades. Proper maintenance and prevention can prevent many repairs and put off replacement. We can help you resolve small issues before they become major issues needing repair or replacement. When you hire our maintenance or inspection services, you can expect that we will:
Look for Bald Spots – Our technicians will search your roof for missing shingles. While a missing shingle may not be a major repair needed, it can lead to serious water damage if left unattended.
Inspect Flashing and Caulk – Our contractors and roofers will check that caulk and flashing is still in good condition. Because of the location and use of these parts of your roofing system, they may wear down and cause dry rotting and cracking. If we find any issues, we will quickly repair them.
Check for Exposed Nails – If the nails on your roof have come loose, this can be an access point for water into your home, leading to water damage. We will look for any loose nails or fixtures and repair them.
Inspect Inside and Out – Our experts will search every aspect and part of the roof, inside and out. With many perspectives and viewpoints, we can ensure we assess the entire situation and don't miss any issues.
Cunningham Contracting Inc. Services
When searching for a contractor for your residential or commercial projects, it can be hard to find the right fit. Finding an insured, licensed, and experienced contractor you can trust is important. When you choose our team at Cunningham Contracting Inc., you will be confident in our technicians' experience and certifications.
Our team in Baltimore offers the following services for your convenience:
Contact Our Experts at Cunningham Contracting
Choose Cunningham Contracting Inc. today for the best roofing services in Baltimore, MD. Working with our experienced and licensed contractors, you will receive quality services. You will receive the best products by working with our locally owned and operated company. Choose our team for your needs, no matter how difficult your commercial or residential project may seem. Get a free estimate by contacting us.
Contact Us Today to See What We Can Do For You!