Skip to Content
Remodeling Services to Upgrade Your Crofton, MD Home
Do you love your home, but wish you had more room? Instead of searching for an entirely new home, add on to your current space with Cunningham Contracting, Inc.'s assistance! While we're known for our roofing solutions, we also offer various other services, including home remodeling. No matter what you need to enhance your home's look and feel, we can help. Our team has extensive remodeling experience and has helped dozens of Crofton, MD residents discover a newfound love for their homes. We cater to the remodeling needs of homes and businesses throughout Bowie, Annapolis, Severna Park, and the Washington DC and Baltimore metropolitan areas. When you opt to upgrade your spaces with us, we hold your satisfaction as our top priority. And with free estimates before starting any work, we help you make an educated decision about your home improvement.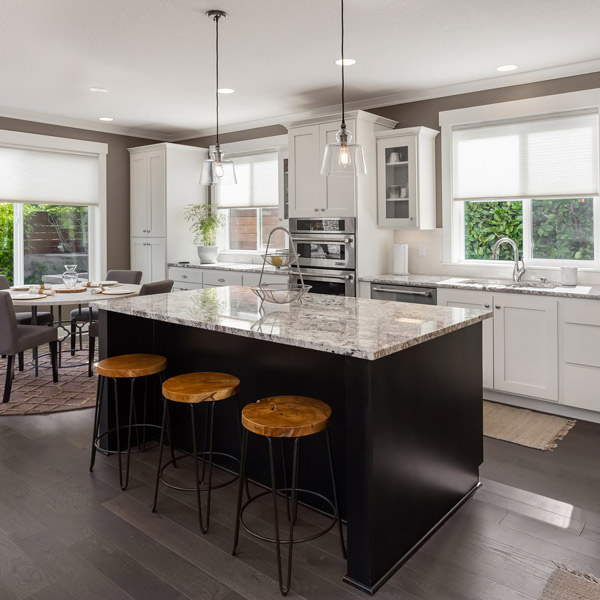 We Do More Than Roofing & Gutters
While our company is well-known for the work we perform on the exterior of homes and businesses, such as roofing and gutter installation, we also offer premium remodeling services for homeowners. You might want to update your antiquated interior spaces to match your personal style, or maybe you're planning to sell and want to raise your home's value and appeal. Whatever reasons you want to remodel, Cunningham Contracting, Inc. has the training and expertise to ensure your space is transformed into your ideal domestic haven. Whether your taste calls for a sleek, contemporary look, or you feel more at home in a rustic environment, our team is experienced at skillfully recreating your rooms according to a custom design we plan with you. Every remodels we perform uses high-quality materials and time-tested construction techniques, building your dream space from the carpet to the textured ceiling. Our remodeling services include all the following options:
Kitchens
Sunrooms
Bedrooms
Bathrooms
Living Rooms
Dining Rooms
Upgrade Your Kitchen, Bathrooms, & More
With Cunningham Contracting, Inc., your remodeled space is within easy reach, using designs that combine the practical and aesthetic elements of your choice. If your kitchen or bathroom is an eyesore with retro wallpaper, dingy tiles, and outdated faucets and counters, let our team of talented professionals give it an upgrade. We install new flooring, toilets, tubs, sinks, stone countertops, cabinetry, drywall, paint, and hardware to refresh your room's appearance to a more comfortable environment. If the master bedroom and adjoining bathroom aren't sufficient spaces for you and your partner, we can expand their dimensions and make your sleeping quarters into a luxurious private suite. You can add class and elegance to your living room and dining room with new hardwood floors, built-in bookshelves, and intricate lighting options like a chandelier. For many people, making their house into a home is about customizing the space to complement their style for a welcoming environment. If your home's upstairs or downstairs rooms don't live up to your desired comfort level, we can help you change that for the better.
Benefits of Remodeling Your Home or Business
.Everyone has their own reasons for starting a home remodeling project, but there are common benefits every homeowner can enjoy by updating and upgrading their interior spaces. Our team understands the investment you make in our remodeling services, and we live up to your commitment with outstanding construction of your new dining rooms, bedrooms, bathrooms, sunrooms, and kitchens. Some common benefits you receive from a home remodel include the following:
Reflects Your Style
With a remodel, you get to customize your space's aesthetics with new colors, patterns, material and fixture choices, and even new appliances. Our team tailors each remodeling project to the details of your vision for a room. From granite countertops in the kitchen to contemporary chrome hardware and a steam shower in the bathroom.
Updates the Fixtures & Appliances
If your fixtures and appliances are older, they may have functional issues that could cost you more on your utility bills and repairs. Not to mention the risk of an electrical short. During a remodel, we can update all appliances and fixtures to newer, more energy-efficient models. We'll install your new appliances and even update the electrical outlets and switches for better safety and efficiency.
Can Increase Your Home's Value
When you keep your home up-to-date in its design and building quality, your home's value can rise. The improvement in its aesthetics and updated features like wiring, fixtures, and material quality all make your home more appealing and impact its dollar worth. If you decide to sell your home, this can lead to a more lucrative selling price.
Call Cunningham Contracting, Inc. to Start Your Project
If you are simply looking to add space to a bathroom or kitchen, or you wish to add a new room to your home, the team at Cunningham Contracting, Inc. is eager to assist you! No job is too big or small, and we go above and beyond to ensure your remodeling needs are exceeded—all while respecting your budget. Start your next remodel today by contacting our office at 410-774-5381! You can speak with a member of our team about the changes you desire for your home or business, and we'll give you a free estimate on our remodeling services.
Contact Us Today to See What We Can Do For You!